1.Winter Storm Grayson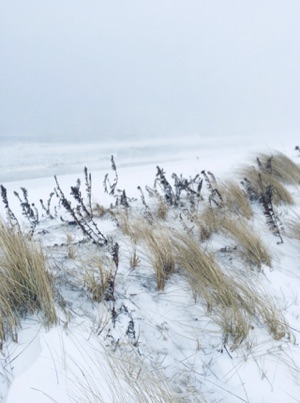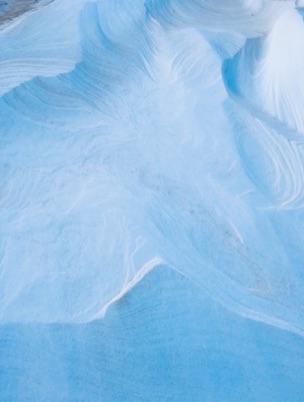 2018 started with a blizzard on the New York coast. Winds strong enough to knock a body down. Cold that burns. A wildness that was invigorating—and terrifying. I bundled up in layers of thermal-wear and walked to the dunes. The wind set the snow in constant motion so that it looked liquid again, moving like a giant white sea, driving, driving toward the real sea, into the waves, where it was crushed, absorbed, welcomed home. The snow and sand drew and erased spectacular designs that my mind longed to capture. I was overwhelmed with desire to write this raw scene. But all these months later, words still cannot contain its immense power, cannot express how this storm changed me. Back inside, I had to blow-dry pieces of ice off my dog's paws and stomach and privates.

2.Red Clocks

The central plot of Leni Zumas' novel Red Clocks enthralled me. But the fragments about polar explorer Eivør Mínervudottír that Zumas includes between chapters resonated most deeply with me:

Off the coast of Greenland they saw the Crimson Cliffs: enormous shoulders of red-stained snow.

"God's blood," said the blacksmith.

"Algae," corrected Mínervudottír.

3.This Block of Cocktail Ice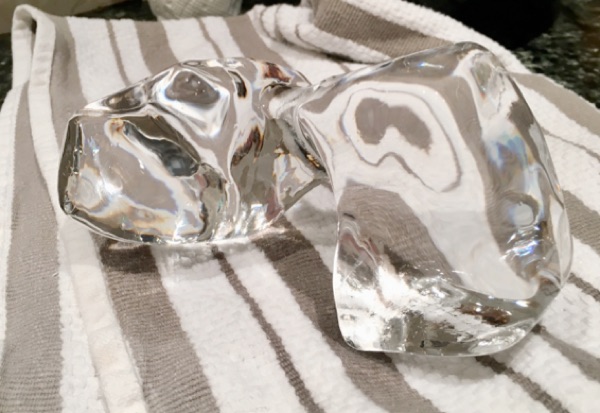 Old Fashioned. Negroni. Penicillin. My husband's and my cocktail-crafting obsession ignited a secondary passion in him for making ice. He's constantly searching for the perfect chunk. The clear diamond. The frozen truth. He's consulted experts, read books. There are blocks of it in all shapes and sizes in our freezer, and many Saturday nights you can find him with a chisel and knife. He knows the angle of approach so as not to shatter. The pressure to apply. To wait until the ice starts sweating. Pictured is my favorite piece of the year. It tells all the stories if you look at it from enough angles.

4.Dawn Wall

Wow, did my heart race during The Dawn Wall documentary when ice rained down on Tommy Caldwell and Kevin Jorgeson as they made their 19-day journey up the most impossible face of El Capitan. The two men hid inside a precarious portaledge, hugging the rock wall, hundreds of feet above the earth. They seemed so small, so terribly human, when the icicles decided to take mercy on them.

5.Edges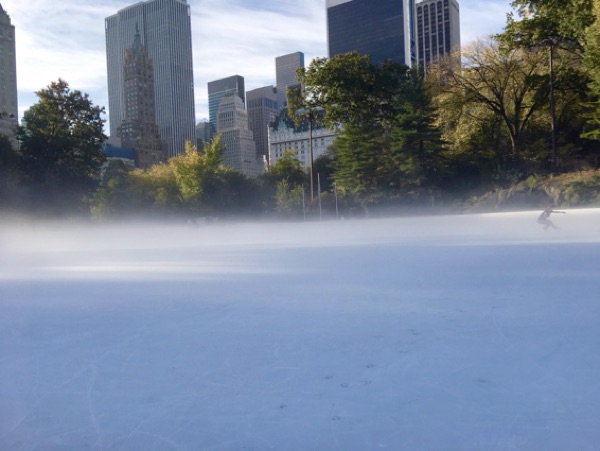 My girls figure skate at a tree-and-skyscraper-lined rink in Central Park. I've spent hours standing beside this ice in 2018. I love the peace of the space, settled down into a nook, protected from city anxieties and noise. I love that my girls can do this impossible thing that I never could. I was all fear, all turned-in ankle. I could never trust the slippery, silly surface. I could not submit. But my girls have faith in the ice, in themselves, in falling. They have learned to cleave to this frozen ground. To harness the lack of friction. To fly. In autumn I love when the falling leaves freeze into the ice in eclectic patterns. How my girls' blades sometimes disappear into a blanket of snow. How puddles form over it when the temperatures rise in spring. I love the tourists clinging to the rink walls. The couples on dates with their wobbly kisses. The Air Supply on the speakers. The sound of blades scraping, shaving, chipping. How cold my toes get.

6.Ice for the Ice Trade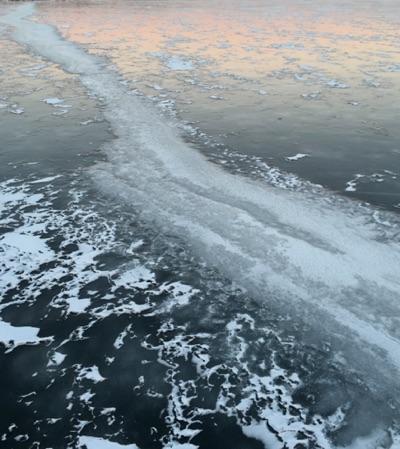 This year I find myself rereading Stephanie Burt's poem, "Ice for the Ice Trade," like one might return to a special recipe or prayer or gravestone. Claudia Rankine recently said in an interview I attended: "When the line arrives in you, it never leaves." Stephanie's line that never leaves me: "For reasons I cannot fathom, I weep when it rains."

I've also returned this year to Stephanie Vaughn's ice floes in "Able, Baker, Charlie, Dog," to the "white thunder" of the Childs Glacier in Hannah Tinti's Twelve Lives of Samuel Hawley, to the Antarctic crossing of Maria Semple's Where'd You Go, Bernadette, to the first line of One Hundred Years of Solitude, to Annie Dillard's essay in pieces fractured like ice, "An Expedition to the Pole." A Dillard line that stays with me: "The Franklin expedition was the turning point in Arctic exploration. The expedition itself accomplished nothing, and all its members died."

7.Jakobshavn Glacier, Greenland, by Zaria Forman (pictured below with admirer)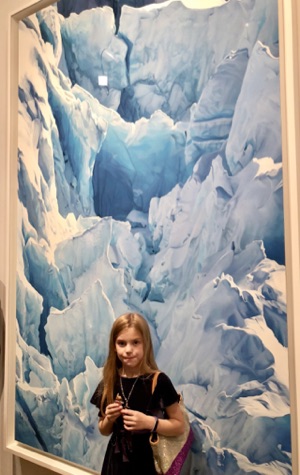 There are a few people I've seen up close who have an aura about them. Almost like they glow and you can hear a choral Ahhhhhhhhhh emanating from their bodies. Pope Francis. Lorrie Moore. Yankee-outfielder Aaron Judge. And the artist Zaria Forman, who draws enormous pictures of glaciers, who has traveled on missions with NASA over Antarctica, who is working for climate change by making people fall in love with ice. I took my seven-year-old to Zaria's latest opening and we did just that. We fell in love. Fell, fell, fell. My girl returned to gaze at each and every work three times. She got really close and opened her eyes really wide. She squinted. She photographed. She asked Zaria, why do you only paint water and ice?

8.My heart

The day Donald Trump was elected I wrote an essay declaring that the country's misogyny and sexism had turned my heart to stone ("It's a Man's World"). 2018 taught me that my heart is not stone; it is ice. Constantly freezing and melting. Having watched every moment of Christine Blasey Ford's testimony, Kavanaugh's confirmation hardened me. My view of humanity changed. I lost so much faith. I hurt inside. My head. My muscles. My icy heart. But there were also soft moments when the ice inside me thawed. Like when Dr. Ford said, "I am here today not because I want to be. I am terrified. I am here because I believe it is my civic duty to tell you what happened to me while Brett Kavanaugh and I were in high school." Or when Senator Heidi Heitkamp announced she would vote no on the nomination: "Our actions right now are a poignant signal to young girls and women across our country. I will continue to stand up for them." Senator Heitkamp knew voting against Kavanaugh would cost her the election. Dr. Ford knew speaking the truth would risk her very life. But they did it anyway. And their courage flooded me with love.

9.Gold Rush

I got lost the first time I went to Attaboy, the tiny, unmarked bar on Eldridge Street on the Lower East Side. But by 2018 I know the door to knock. I make an annual pilgrimage. Entering feels like leaving one dimension and discovering another—a different kind of Narnia. A flash fiction Narnia. Narrow. Compressed. Dark. Room for only a handful of people, for the flicker of candles, for the shimmer of glass. When I order a Gold Rush, the bartender takes a pick to a hunk of ice and chisels it down with craftsman skill until it sits snug in the glass.

10.Snow in Central Park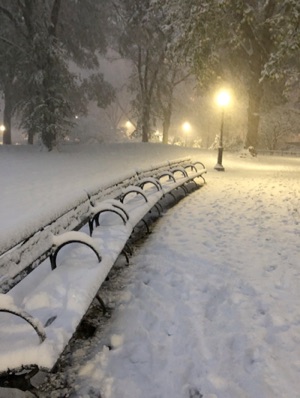 Snow arrived early this fall, before the leaves had dropped from the trees. A heavy, wet snow. It clung to the steadfast leaves and caused branches all over the city to give. I took my kids out into the thick of it, oblivious to the danger of falling limbs. We weren't dressed right because we didn't quite believe this snow, that it could be here so early, that it could be this cold. The children dropped to the filthy sidewalk and made snow angels; they rolled down hills in Central Park and ate mitten-fulls of snow. We stayed until their pants were soaked and their cheeks were red. We were alone in the darkened park, no one else foolish enough to enter. Somewhere along our trek my daughter lost her white hat. It was so camouflaged we knew we'd never find it. We decided not to retrace our steps.


Maureen is the flash fiction editor at Split Lip Magazine (one of the reasons we love them so much). Her own flash fiction story that we published here, "The Vibration Before The Sound," was like one of the pieces Maureen writes about above — I couldn't shake it. Couldn't stop thinking about it. And love that we got to publish it.